Under Floor Hanger System
This solution is both effective at reducing airborne and impact sound however it is important to be aware this solution is best suited for old Victorian buildings. There are various flooring sound solutions that have the same effect but are more suitable for newer period buildings such as the Acoustic Mineral Wool and Triple Barrier Mat solution.
The reason why this underfloor soundproofing service is most suitable for older Victorian buildings is that many individuals want to keep the original flooring. To install this solution the original floorboards are carefully lifted to expose the floor joist supports. Mineral wool is then friction fitted between the floor joist supports. Once the Rockwool has been installed a shock-absorbing acoustic hanger is then installed over the joists followed by the original floorboards then being fitted directly into the hanger flanges. A 19mm acoustic planc is installed on hanger flanges and edges sealed with acoustic mastic to aid in airborne noise reduction.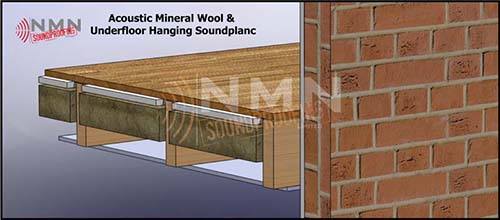 Why NNM SoundProofing?
Proud to be part of The Guild of Master Craftsmen, NNM Soundproofing specialises in everything soundproofing. Here at NNM Soundproofing we can assess, quote and install soundproofing solutions for your floor at some of the most competitive prices. We are the only domestic soundproofing company in London that is part of The Guild of Master Craftsmen, so you can be sure that we work to the highest standards available in the UK.
System
FLOOR HEIGHT GAIN
IMPACT PERFORMANCE (SRI) dB
AIRBORNE PERFORMANCE (SRI) dB
Under Floor Hanger
+/-8mm or
+/-0.3inches
15
15
*This is an estimated reduction. The result will depend on the existing structure.
Click the images bellow to view full size