Independent Ceiling
Having thoughts about soundproofing your ceiling? As the Soundproofing market becomes saturated with a huge variety of different products it can become a tedious job to research and find the best solution for your home/room you want to soundproof especially for someone who hasn't got the slightest idea about engineered ceilings. It's important to understand that each soundproofing solution has its benefits to certain specs and situations you might find yourself in. 
So when should I consider Independent Ceilings as an avenue to go down? Before choosing the best soundproofing fitting you first have to ask yourself a few important questions:
Do I need to protect my room from either Impact or Airborne noise – or both?

Have I got the capacity to reduce the height of my room by a few inches to fit my specific solution?

Am I looking for a more cost-effective solution?
Independent ceilings are generally suited for rooms where you can afford to lose about 6.5- 7 inches. Therefore if your room isn't that high, say 2.2m in height it's more often than not recommended. (Please note that this will depend on the room span). 
"Pound for Pound" you will find that fitting an independent Ceiling is the best value for money solution that NNM provide. Due to the extensive work done in fitting this soundproofing, it can seem expensive however the results are second to none when completed and surpass current building regulations. You can sure of a sound sleep!
Airborne and impact noise
As we have already mentioned one of the first things you need to consider is which categories of sound do you need to protect your room from:
Sounds can be parted into two classes: airborne sound and impact sound. Airborne is characterized as noise that goes through the air and climate; a good illustration of airborne sounds would be the sound of individuals talking in a room above. Impact sound is the sound created when two objects hit each other (one of the objects is attached to the same structure your room is attached to. An illustration of this would be somebody banging against a wall or slamming a door. Impact sound happens when the two objects vibrate and create sound waves.
One of the huge upsides of fitting an independent ceiling is its effectiveness for both classes of noise. If you want to fit a comprehensive and reliable solution that is super effective then an independent ceiling would be perfect for you. You have to consider that even footsteps can create a fairly loud impact noise!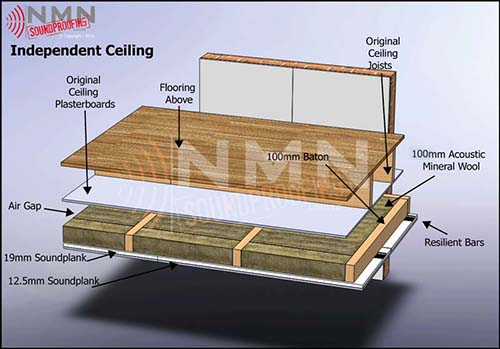 Independent Ceiling Explained
As you can see in the image above your solution will require multiple components to be added underneath the existing ceiling plasterboard. To begin with, a timber frame is fitted with 100mm acoustic mineral wool. Put simply, Acoustic Mineral wool is a material made with rock and stone wool – a soundproofing material that is extremely effective at absorbing both heat and sound in your ceiling. Once this has been applied resilient bars are fixed to the new joist followed by two layers of acoustic plasterboard 19mm and 12,5mm. The perimeter and all joints on the 1st layer of the plasterboard will be sealed with acoustic mastic.
| | | | |
| --- | --- | --- | --- |
| System | CEILING HEIGHT LOSS | IMPACT PERFORMANCE (SRI) dB | AIRBORNE PERFORMANCE (SRI) dB |
| Independent Ceiling System | +/-170mm or +/-6.5inch | 26db | 24db |
*This is an estimated reduction. The result will depend on the existing structure.
Click the images bellow to view full size image

FAQ
Is SoundProofing my ceiling worth it?
When it comes to soundproofing every individual's situation varies. It depends on whether you are easily annoyed by neighbouring noises, whether you wish to spend the money etc. But one thing is universal: Destroying existing dividers/ceilings and rebuilding, costs more cash, takes longer, and furthermore utilizes more space. Soundproofing is most certainly worth the cash if you wish to soundproof your home in less time, less mess and overheads.
Are there multiple ways of soundproofing my ceiling?
Of course. Here at London soundproofing we have years of experience and understand that each customer has specific requirements. For that reason, we offer a variety of different solutions. If you need to speak to a team member please don't hesitate to give us a call – we are aware that it can seem like quite a job understanding each avenue you could go down.