M20 Panel System
We have over 20 years of experience, and we've learned a thing or two about sound – we'll guarantee to fix your sound insulation problems. We're fully certified and we prioritized quality and safety before everything else – with our patented products, we guarantee your peace of mind.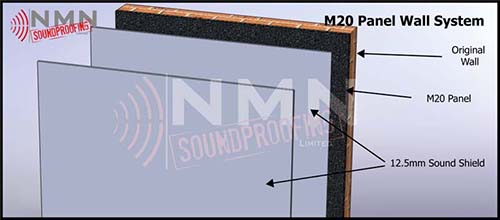 What is M20 Soundproofing
M20 rubber sheets are an acoustic mat to be installed as part of an acoustic wall covering. The purpose of an M20 Sound Panel is to provide effective soundproofing against airborne noise. An easy-to-install, thin acoustic insulation system made of recycled M20 rubber glued with two layers of 125 mm acoustic then applied after, is a simple solution if you are disturbed by normal noise from neighbours and other forms of noise pollution.
Our M20 Sound Panels have an SRI rating of 17db. The sound reduction index (SRI) is a proportion of the decrease in the intensity of sound when it goes through a building structure; in simple terms, the level of soundproofing effectiveness. It is the contrast between the sound power that hits one side of an item (like a divider, entryway, window, segment, etc) and the sound force estimated on the opposite side, communicated in decibels (dB).
This product is manufactured with high-density sound-absorbing materials, designed to absorb, block and reduce the airborne sound that passes through the insulated wall.
| | | |
| --- | --- | --- |
| System | System Thickness | AIRBORNE PERFORMANCE (SRI) dB |
| M20 Rubber Panel System | +/-50mm or +/-2inches | 17db |
*This is an estimated reduction. The result will depend on the existing structure.
Get in touch with us for a free quote
We work with all budgets and offer free quotes, so call now to see what we can do for you!
Click on the images below to view full-size image
Frequently Asked Questions
Do you have a specific question in mind? Below we have answered some questions that are often asked by our clients. If we haven't asked a certain question you have please don't hesitate to give our team a call.
How are your M20 Sound Panels installed?
When we install your M20 Sound panels it is simply bonded onto your wall with a special adhesive.
Is Rubber better than foam for soundproofing?
For soundproofing, Rubber would improve work at impeding and halting sounds when contrasted with acoustic foam. However, they are both important if you are intending to soundproof a room totally considering different sounds protections, like sound absorption.