Over Floor Soundplanc and Acoustic Mineral Wool
Are you fed up of hearing neighbours downstairs? Want a quiet night's sleep? With soundproofing technology coming leaps and bounds over the last decade it can often feel overwhelming and tedious to find the best solution for soundproofing your floor, especially for someone who knows very little about engineered flooring. Well, you've come to the right place! Here at NNM Soundproofing, we can offer a wide variety of different soundproofing services that are tailored to each customer's needs.
So when is the Overfloor Soundplanc and acoustic mineral wool flooring suitable? Before choosing the right solution for your flooring there are a few questions you should always ask yourself.
Do I need to protect my chosen room from Airborne or impact noise – or both?
How much height gain am I willing to sacrifice to engineer my flooring for soundproofing purposes.
Is the solution I have chosen within my budget and cost-effective?
When considering Over Floor soundplanc and Acoustic mineral wool each question can be answered fairly simply making your decision very easy!
This service is engineered towards airborne noise protection mainly. Please don't hesitate in looking at our other flooring solutions that would be tailored towards impact noise if this is an area of need.
Unlike other services our over floor soundplanc only adds a height gain of 19mm. HOWEVER, we have recently added a brand new DB board to our arsenal which is only 15mm and can either be added to the soundplanc or substituted.
Cost is fairly relative based on room size and other specifications, however, here at NNM, we aim to provide the very best rates at the very best quality.
What is Airborne and Impact Noise?
Of the three questions we have mentioned, arguably the most important is whether you need to protect your room from Airborne or Impact noise – or both.
Sound is usually classed into two categories: AIrborne and Impact. Noise that travels through climate and air is airborne; a great depiction we often use to describe Airborne noise is when you can hear a muffled conversation in the next room. Impact Noise however is when two objects collide together creating a 'loud vibration'. One of the objects has to be attached to the structure you are inside. For example, someone slamming a door.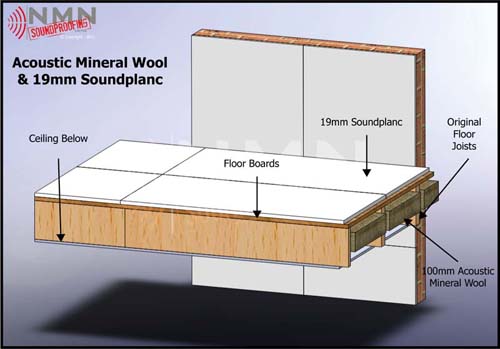 System
FLOOR HEIGHT GAIN
IMPACT PERFORMANCE (SRI) dB
AIRBORNE PERFORMANCE (SRI) dB
Over Floor Soundplanc and Acoustic Mineral Wools
+/-19mm or
+/-0.8inches
4db
17db
*This is an estimated reduction. The result will depend on the existing structure.
Click the images bellow to view full size

H2: How is the Over Floor Soundplanc and acoustic mineral wool applied?
As you can see in the image above this service requires only 2 different additional components; 100mm Acoustic Mineral Wool and the 19mm Soundplanc. To begin with, one of our experienced employees will remove the original floorboards. From there, we will fill the spaces between the Original Floor Boards with 100mm Acoustic Mineral Wool. We then refit the floorboards followed by the 19mm Soundplanc. Finally, we apply an acoustic mastic sealant to cover up any gaps and spaces around the edges and perimeter to negate any 'leaking' sound.
H2: Frequently Asked Questions
Below we have answered questions that are frequently asked but also predetermined what might be asked in the future.
H3: Can you apply a DB board and the Soundplanc together?
Put simply, yes. With the reason introduction of the new DB boards in the market, it's becoming a hugely desired product. In most cases, however, both are not applied together, but rather the DB board is substituted for the Over Floor Soundplanc. Each situation varied based on an individual's needs, so please feel free to give our team a call!
H3: What are other products/services that are similar to this one?
With over 15 years of experience, here at NNM Soundproofing, we understand that each client has specific needs. For that reason, we slowly expanded the variety of different flooring solutions. Again, If you need to speak to one of our friendly customer service employees please don't hesitate in giving us a call!