Hangers System
This is one of the cleanest systems to install due to the original ceiling staying intact. The old ceiling will be left for the first layer of defence against airborne sounds. Isonic Hangers are then fixed to the existing joists. Batons are fitted through these hangers to form a base for the new soundproofed ceiling. We incorporate resilient bars onto the batons for added impact performance. This system also utilises acoustic mineral wool between the new frame structure and two layers of acoustic plasterboard 19mm and 12,5mm. The perimeter and all joints on the 1st layer of the board will be sealed with acoustic mastic. (Please refer to the image above)
So when should I choose a hanger ceiling system? There are a few questions you need to ask yourself before choosing this system?
Is the room vulnerable to airborne or impact noise – or both?
The system would mean dropping your ceiling by 4 inches. Is the room suitable for doing this?
Is the solution I have chosen cost-effective and within my specified budget?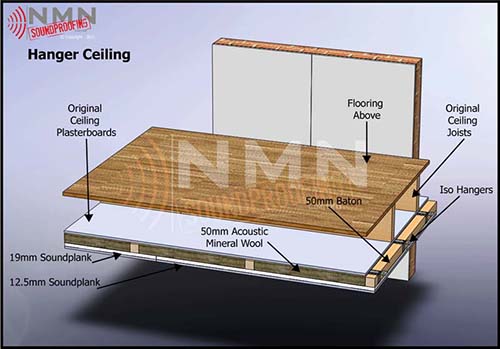 Why NNM Soundproofing?
Is it frustrating to hear neighbours above your home? Would you like a peaceful night's sleep? Over the past decade, soundproofing technology has advanced at such a rapid pace that finding the best solution for soundproofing your ceiling, especially for someone with a very limited understanding of engineered ceilings, has become a daunting task. Don't worry, you're in the right place! The soundproofing services we offer at NNM Soundproofing can be tailored specifically to each customer's needs.
What is Airborne and Impact Noise?
Of the three questions we have discussed, protecting your room from impact noise or airborne noise is probably the most important. 
There are two common categories of sound: acoustic and impact. We often use the example of muffled conversation next door when we describe airborne noise; it is the noise that travels through air and climate. However, impact noise occurs when two objects collide, which causes a loud vibration. In order to hear impact noise, you must be inside a structure where the two objects collide. A slammed door is an example of this.
| | | | |
| --- | --- | --- | --- |
| System | CEILING HEIGHT LOSS | IMPACT PERFORMANCE (SRI) dB | AIRBORNE PERFORMANCE (SRI) dB |
| Iso Hanger System | +/-100mm or +/-4inch | 20db | 18db |
*This is an estimated reduction. The result will depend on the existing structure.
Click the images bellow to view full size image
H2: Frequently Asked Questions
Below we have answered questions that are frequently asked but also predetermined what might be asked in the future.
H3: What is the recommended height for a room if I were to consider a Hanger System?
As you are aware, for us to be able to apply this solution to your room or entire home there needs to be 4 inches of ceiling space that will be sacrificed. In the UK, each home's ceiling height varies. Here at NNM, we have placed them into three categories for this solution. Please keep in mind that it also depends on the purpose of the room.
Not Suitable (in most cases): 200 cm
Suitable for some rooms (ie Children's bedrooms, Bathrooms etc): 230 cm
H3: Does NNM sell a variety of different solutions for ceilings?
NNM Soundproofing understands that every client has specific needs, built on over 15 years of experience. In order to satisfy these needs, our ceiling solutions slowly expanded. Please don't hesitate to contact us if you need to speak to one of our friendly customer service representatives!