Acoustic Mineral Wool and Triple Barrier Matt
Do you have neighbours with a heavy hand or listen to the tv too loud downstairs? Choosing a soundproofing solution to give you a good night sleep can feel like going through a huge catalogue of different options. Not knowing anything about floor engineering can only make it feel impossible. The good news is, you are in the right place. Here at NNM Soundproofing, we identify your specifications followed by a perfectly suited soundproofing service that is tailored to your needs.
So when are the Acoustic Mineral Wool and Triple Barrier Matt flooring solutions suitable? Before finding the answer, there are three questions you have to ask yours:
What category of noise do I need to protect my flooring from – impact or airborne? (read about the different types of sound and what this product protects your room from)
Soundproofing floors in most cases means sacrificing space. How much height am I willing to gain?
How much am I willing to spend and is the solution I've chosen cost-effective?
Jumping to the third question – How much am I willing to spend and is the solution I've chosen cost-effective? This is a question that is difficult to answer at NNM but we can also offer assurances. When soundproofing a room, many factors can affect the price such as size, etc. One assurance we can make, however, is that we will offer the best possible prices at the very quality including the service.
Airborne and Impact Noise
To help you with understanding and identifying your own needs we have explained the difference between airborne and impact noise below:
Airborne Noise is when sound is produced through the air and the surrounding atmosphere. The sound is created through the likes of people talking, a loud tv, dogs barking etc. The sound waves created by these sources travel through floors, ceilings and walls as vibrations albeit at a reduced volume.
Impact Noise is when two physical objects collide where one of the said objects is attached to the same building you are in. Examples of these circumstances where impact noise is created are, doors banging, moving furniture and walking/running. Impact noise is often the most difficult to negate when soundproofing your home.
Coming back to the first question that you ask yourself, Acoustic Mineral Wool and Triple Barrier Matt, is in fact, engineered to protect both impact and airborne sound!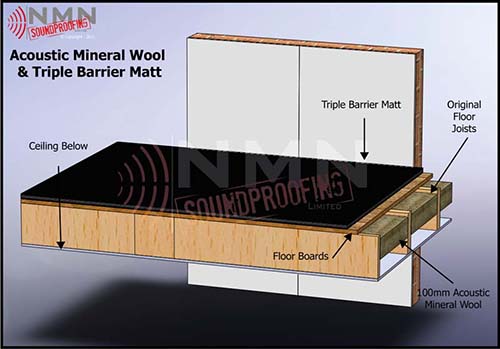 How is the Over Floor Soundplanc and acoustic mineral wool applied?
As you can see in the image above, there are only 2 additional components needed to apply this solution to your flooring. To begin with, the original floorboard is removed without damaging it. We then fill the spaces between the floor joists with 100mm Acoustic Mineral Wool. We then place the original floor back over the joists followed by the triple barrier mat
Please keep in mind that this matt is soft underfoot, so it is recommended that you then place a 14mm minimum thick flooring over the top. Alternatively, you can apply a carpet directly onto the Triple barrier matt.
System
FLOOR HEIGHT GAIN
IMPACT PERFORMANCE (SRI) dB
AIRBORNE PERFORMANCE (SRI) dB
Independent Ceiling System
+/-15mm or
+/-0.6inches
24db
18db

Click the images bellow to view full size