Acoustic Mineral Wool & Defender35
A highly effective service if you are looking to have brand new flooring fitted in the room in question that is both effective towards airborne and impact sound, but more effective for the latter. Generally speaking the acoustic mineral wool and defender 35 service is installed when old floorboards are weathered and in need of replacing with new chipboard flooring. The two main materials used in this soundproofing solution are Acoustic Mineral Wool & Defender 35. Mineral wool soundproofing is tightly fitted between the existing floor joists once the original floorboard is removed and disposed of. Acoustic Mineral Wool is designed to target airborne noise specifically, but can also be effective in minimising impact/reverberant sound. Once the wool is packed between the joists a T&G (Tongue & Groove) acoustic chipboard flooring deck with Defender 35 properties is fitted over the entire floor area. The flooring will not be fixed to joists as we need to keep the floor floating because by minimizing the contact between the below room and said room, we will minimize how much impact sound travels throughout the rooms. Perimeter strips will be installed as standard to minimize flanking noise travelling down the walls.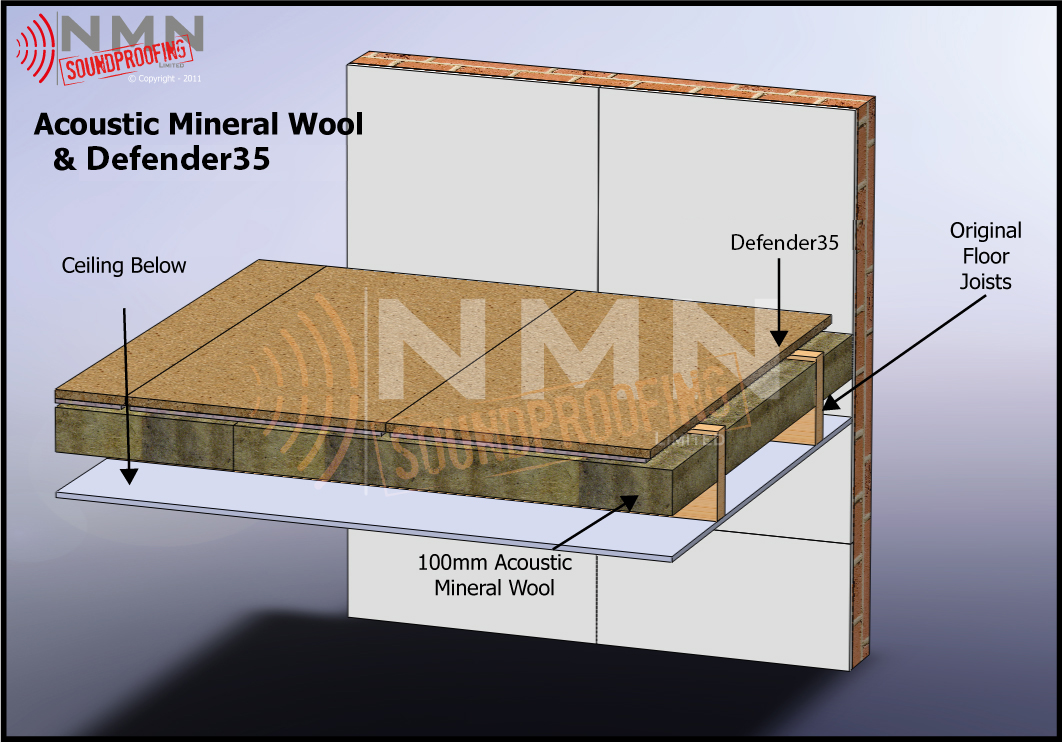 Why NMN SoundProofing?
Getting sleepless nights from loud neighbours or passing trains? In desperate need of a peaceful night's sleep? At NMN Soundproofing we specialise in offering the most advanced soundproofing solutions including installation. We understand that finding the best soundproofing solution for your floor can be like finding a needle in a haystack. Well, you've come to the right place, because here at NMN Soundproofing we take charge of the assessment, materials and installation of your soundproofing solution.
What is Defender 35 Soundproofing?
Directly applied to the floor joists, Defender 35 is a high-quality product designed to reduce airborne noise, as well as noise from the impact on the floor. Providing both structure and acoustic protection, it is a perfect choice for replacing floors in poor condition. There are various benefits to using this defender soundproofing solution, most notably:
Offers superior performance against impact sound from the recycled foam used.

This material is one of the highest quality soundproofing solutions currently on the market which also benefits from meeting all current industry standards and regulations
Please note that Defender 35 can protect your room from both airborne and impact sound however it is more effective for the latter. To improve the airborne sound protection we can also offer the added DB Boards which would be laid beneath the Defender chipboard. Alternatively, we can also add a triple barrier matt instead, which would further increase protection from both types of sound. This solution that includes soundproofing Rockwool, Defender 35 & triple barrier matt is our most effective flooring solution to offer.
System
FLOOR HEIGHT GAIN
IMPACT PERFORMANCE (SRI) dB
AIRBORNE PERFORMANCE (SRI) dB
Acoustic Mineral Wool & Defender35
+/-35mm or+
+/-1.1inches (from joist)
26
14